Rebuild with a secured visa credit card
Creditaid has partnered with Home Trust, one of Canada's leading trust companies, to provide our clients with the best way to establish or re-establish their credit score. Home Trust is a federally regulated trust company that has been helping Canadians find alternative financial solutions and reach their financial goals for over 35 years.
The Home Trust Secured Visa card is designed to build or re-build your credit, even if you have had credit difficulties in the past. If you're someone who has never had a credit card before, this provides an excellent opportunity to establish your credit rating. There are two types of Secured Visa, one that is subject to an annual fee but offers a lower interest rate on purchases, and another that has no associated annual fee but a slightly higher interest rate on purchases.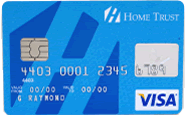 Apply Now