Who is Creditaid
WE ARE a Licensed & Bonded Company
Creditaid was established to assist people having credit problems or credit questions. With over 50 years experience in the financial services industry, we have established a reputation for honesty and sound credit advice amongst both lenders and borrowers.
Creditaid's philosophy has always been based on the principle that "borrowers are expected to re-pay their accounts within their ability to do so, and lenders shall make no unreasonable demands on them".
Manitoba residents have been benefiting from Creditaid's debt reduction and financial planning strategies for decades. With our solid reputation for providing sound financial advice, many lenders, banks, trust companies, credit unions and collection agencies in Winnipeg often refer their clients to Creditaid. They have full confidence that their clients will be treated in a fair, courteous, respectful and friendly manner, and that all creditors will be treated equally.
WE ARE Members of the Canadian Association of Independent Credit Counselling Agencies
Creditaid is also a proud member of The Canadian Association of Independent Credit Counselling Agencies (CAICCA). This organization was formed in 2000 with the mandate to promote awareness and understanding of the Industry through initiatives provided to creditors, business, government, and consumers.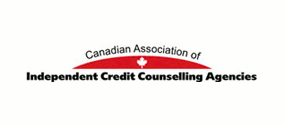 WE ARE Registered Insolvency Counsellors
At Creditaid, we understand that each individual is different with their own unique situations. That is why we offer many different debt solutions - so that we can find the best solution for each individual. Both Antin Stowell and Laurie Boudreau are Registered Insolvency Counsellors in Winnipeg, under the Office of the Superintendent of Bankruptcy Office.
To become a qualified Insolvency Counsellor, the candidate must:
Successfully complete the Insolvency Counsellor's Qualification Course examination by achieving a 60% passing mark.
Perform 100 hours of counselling under the direct supervision of a qualified Insolvency Counsellor(s).
Demonstrate one year of experience in counselling.
As Registered Insolvency Counsellors, we have the knowledge and experience to help you find the right solution to your debt situation.