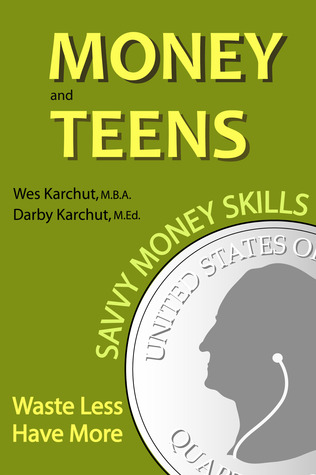 Learning how to manage money is part of growing up and a real skill that a teenager needs as they transition into adulthood. Unfortunately there are many bad influences out there, maybe even within your own extended family, which may be giving them the wrong messages. Teenagers often do not listen as well as they should to their parents on certain subjects, and it can be helpful to have an outside resource to reinforce good money management principles.
Money and Teens
The book Money and Teens by Wes Karchut and Darby Karchut is a great way to give your teenagers some useful financial wisdom without it coming across as a lecture from their parents. The book is written to include everything from opening bank accounts to how credit works and is a great reference, even for those who are well past the teenage years. Some money tips that are covered in the book include:
– How to check and read your credit report
– How missing a payment affects your credit
– Checking accounts and writing checks
– Protecting your financial security, i.e. PINs and login information
– How grocery and retail stores use tactics to get you to spend more
– A self-quiz to take when deciding whether you should buy something
The book is a basic guide to everything that you need to know about saving and spending money wisely. Many people in their twenties, thirties and, even, beyond may learn something they did not know from this book.
As parents, it is your job to try and give your children the skills they need to succeed. A big part of being an independent adult is learning to handle money wisely. Sharing a book like Money and Teens is a good way to solidify the lessons that you have been teaching them all along. It can be a useful guide for them to turn to as they begin to face financial challenges on their own.