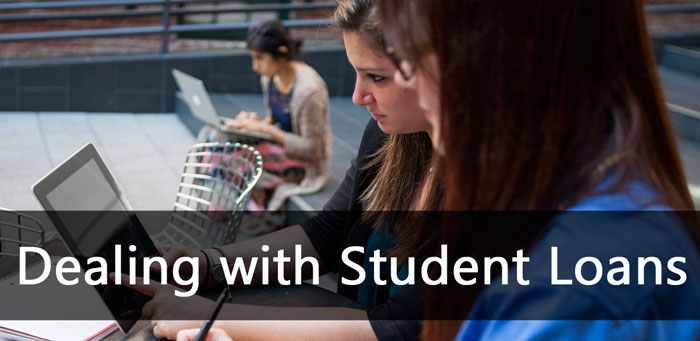 You are 18 and all your friends are going to university so you follow the pack and sign up for some courses too. You intend to work part time so you only borrow $8000 in provincial and federal government student loans for the first year to help pay for your expenses.
In September you move out and put a deposit on an apartment. But now you need furniture so you buy some. You dip into your student loan money for both. You reason that since that you have a roommate- you can afford it.
After going to Mexico for spring break, your money runs out in late February. But you still need to get through two months of school! You increase the number of hours you work but then your marks suffer. You don't finish your first year with straight A's like you imagined.
Year 2- You still want to go to school but are not sure what field you want to go into. You decide to take more general arts or science course. You don't want to run out of money again so you borrow $12,000 in student loans this time.
Year 3- Because your marks aren't high enough to be accepted into law school, you decide to stay in university and declare history as your major and psychology as your minor. Or you dream of being a doctor and continue with your general science courses. You borrow another $12,000 in student loans.
Year 4- Ditto, and another $12,000 borrowed.
At the end of four years did you get into medical school? Or law school? Or another high paid profession?
If not, you could be in serious financial trouble. Even if you graduate with a B.A. or B.Sc., where are you going to find a job paying you enough money to be able to pay rent, your living expenses, make a car payment, PLUS your student loan re-payments. You now owe $44,000. The interest has been calculating since your last day of school and your payments are set at $444 per month. You are likely to have this payment for approximately 10 years. Unless you now have a high paying career as a result of your 4 years of education, you may struggle to pay your rent, car payment, and other living expenses for the next 15 years! What about being able to buy a house or starting a family?
Here are some tips to avoid the above scenario:
By all means choose a career that you think you will enjoy as you will be spending up to 1/3 of your life working at it. But be realistic. Ask yourself these questions:
1) Am I smart enough and do I have what it takes to successfully finish the schooling for this?
2) How much does this career pay? Some careers pay a higher salary in relation to others that required the same amount of education: 4 year Bachelor of Nursing degree, Pharmacy or Engineering degree vs. 4 year general arts or sciences degrees. If you graduate as a nurse, pharmacist or engineer your salary would likely be over $70,000 per year. With a general arts or science degree you might be lucky to find a job paying $35,000.
3) What are the job prospects in the province I want to live in? If you want to become a marine biologist but continue to live in Manitoba, find out what the job prospects truly are. In order to find work, maybe you need to become an aquatic biologist instead.
4) Choose a career where you are actually trained for a career that is in demand. Don't study arts or science courses unless you intend to go into education or graduate with a master's degree in that field of study.
5) Consider alternatives to university or college. You could join the military (Department of Defence). Because they require all sorts of professionals such as dentists, doctors, pharmacists, nurses, lawyers, etc., you may qualify for a program in which they pay for your schooling.
6) Reduce your expectations. If you had your heart set on becoming a doctor but your marks are not high enough, consider another medical related career such as a cardiology technician, sonographer or respiratory therapist. Or if you want to become a lawyer but your LSAT mark is too low, consider alternative career choices as a parole officer, government policy analyst or a career in human resources which deals with employment law.
7) HERE IS THE MOST IMPORTANT TIP: Don't make the mistake of overlooking a career as a tradesperson. It has been estimated that by the year 2020, Canada will have 1,000,000 vacant positions. The apprenticeship system usually involves six months of schooling followed by six months of practical paid work (for a four year period) which can drastically reduce the need for student loans. There are many trades that pay six figure incomes. Don't make the mistake of thinking that a university education will pay you more as this is simply not true.
Here are some general tips to avoid the student loan trap:
1) Buy everything USED. Second hand school books, clothing, furniture, equipment (including refurbished phones and computers) can save you thousands of dollars during your school years.
2) Make a monthly budget and keep track of your expenses. Be disciplined. If you struggle, instead of telling yourself 'No' and feeling sorry for yourself, tell yourself you can buy it once you are working full time.
3) Do not USE your student loan money to buy a car or go on a spring break trip. It should only be used for tuition and books. Do everything in your power to reduce your expenses while you are in school.
4) You are finally an adult and want to be on your own but it is in your best interest to live at home until you are finished school and working. Even if you have to pay 'rent' at home, it will likely be far less than if you move out. Then you'll be paying rent, utilities, groceries, tenant insurance, cable and internet expenses, etc.
5) Do not ask (or let your parents) co-sign your student loans. As an adult you need to be
responsible for your own debt. Someday, if you are not able to repay your student loan
payments your parents will be forced to. If they are not able to make your payments their credit rating could be affected. It is also possible that their wages could be garnished.
6) If you move- always update the student loans departments with your new address. Don't make the mistake of thinking 'If the government can't find me, they can't make me pay'. If you do, two things will happen. The first is that your wages will be garnished. (They can track you through your social insurance number). You will lose up to 1/3 of your pay cheque until the debt is paid in full. The second is- you will now have a negative rating on your credit report. You may not be able to purchase a house or a car because of this. In order to rebuild your credit you will have to repay the entire student loan debt, plus the accumulated interest. It could take many years to rebuild your credit so that you qualify to buy a house or car. Don't make the mistake of thinking that you can outrun your student loan debt no matter how many years have gone by.
Written by Creditaid Credit Counsellor, Laurie Boudreau.  Whether you're a current student dealing with student loans or a recent graduate trying to make ends meet, speak to one of our counsellors today.  We have many tips to help you manage your debt.