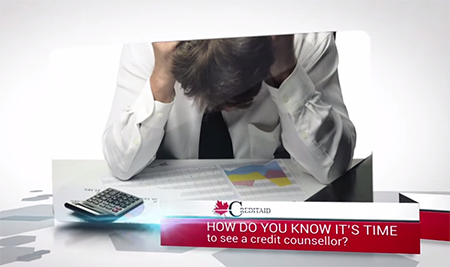 Isn't everyone in debt?
Well, in 21st Century Canada, it might seem that way. Canadians owe a greater portion of their earnings to creditors today than ever before, and even with low interest rates are making steep payments every month just to maintain their debts. When seemingly everyone owes money, how do you know it's time to see a credit counsellor?
First and foremost, if you don't know your financial situation, you need to see a counsellor. It's often easier to hide your head in the sand when it comes to debt problems, but it's certainly not a long-term solution. If you're ignoring a debt problem, it's getting worse.
If one or more of your debts has progressed to collections, and you aren't able to make the payment, you have a debt problem.
If you are borrowing from one source of credit to pay another, you need to see a counsellor.
If your credit payments (not including your mortgage) exceed 20% of your net income, you are in danger.
If you're not able to save for emergencies, or put money away for retirement, you could benefit from credit counselling.
If you aren't able to sleep comfortably at night, secure in the knowledge that your household spending is under control and you have a plan to pay your overall debt load, then you need to contact Creditaid.
Creditaid is a licensed and bonded credit counselling agency that has been proudly serving Winnipeg since 1992. If any of the above scenarios apply to your life, contact us today for a free appointment with a credit counsellor, to help you take stock of your situation and access some of the many tools at our disposal to help you on your journey to financial security.